What Causes Fallen Arches?
Tuesday, 15 February 2022 00:00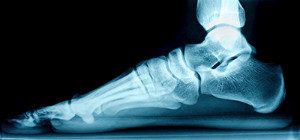 It is not uncommon for adults to experience a sudden onset of flat feet, known medically as posterior tibial tendon dysfunction (PTTD). The tibial tendon, which connects the calf muscles with bones on the inside of the foot, holds up the arch and supports the foot when you walk. This tendon can tear from playing sports like basketball, tennis or soccer, or become inflamed, causing the arch to fall. This injury is more common in women and adults over the age of 40. Other risk factors include obesity, diabetes and high blood pressure. Most fallen arches can be treated non-surgically with orthotics, shoes with good arch support, and braces. Sometimes a protective boot is worn to give the tendon a chance to heal properly. Treating PTTD early is highly recommended, as putting it off can lead to further complications, such as arthritis, that may impede your ability to walk, run, or take part in other physical activities. If you have noticed a sudden onset of flat feet, it is wise to make an appointment with a podiatrist as soon as possible for a full diagnosis and suggested treatment options.
Flatfoot is a condition many people suffer from. If you have flat feet, contact one of our podiatrists from Family Foot Care. Our doctors will treat your foot and ankle needs.
What Are Flat Feet?
Flatfoot is a condition in which the arch of the foot is depressed and the sole of the foot is almost completely in contact with the ground. About 20-30% of the population generally has flat feet because their arches never formed during growth.
Conditions & Problems:
Having flat feet makes it difficult to run or walk because of the stress placed on the ankles.
Alignment – The general alignment of your legs can be disrupted, because the ankles move inward which can cause major discomfort.
Knees – If you have complications with your knees, flat feet can be a contributor to arthritis in that area.  
Symptoms
Pain around the heel or arch area
Trouble standing on the tip toe
Swelling around the inside of the ankle
Flat look to one or both feet
Having your shoes feel uneven when worn
Treatment
If you are experiencing pain and stress on the foot you may weaken the posterior tibial tendon, which runs around the inside of the ankle. 
If you have any questions please feel free to contact our offices located in Valatie and Albany, NY . We offer the newest diagnostic and treatment technologies for all your foot and ankle needs.
Read more about Flatfoot