What to Do if You Suspect a Broken Foot
Tuesday, 12 April 2022 00:00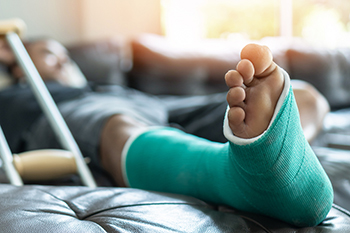 A broken foot is typically quite painful. If a broken foot is suspected, removing footwear and elevating the foot above heart level is usually recommended. Check your foot and body for any other injuries that might also require immediate attention. Then you must consult with a podiatrist to have an X-ray taken. This imaging is necessary to determine if you have broken your foot, as well as the severity of the break. The podiatrist will likely create a splint for the foot, provide you with crutches, and instruct you to stay off the affected foot as much as possible so that it can heal. Once an appropriate amount of time has passed, the podiatrist will evaluate your foot again to see how the healing has progressed. They may even provide a prescription for physical therapy so that you can regain full functionality of the foot.
A broken foot requires immediate medical attention and treatment. If you need your feet checked, contact one of our podiatrists from Family Foot Care. Our doctors can provide the care you need to keep you pain-free and on your feet.
Broken Foot Causes, Symptoms, and Treatment
A broken foot is caused by one of the bones in the foot typically breaking when bended, crushed, or stretched beyond its natural capabilities. Usually the location of the fracture indicates how the break occurred, whether it was through an object, fall, or any other type of injury. 
Common Symptoms of Broken Feet:
Bruising
Pain
Redness
Swelling
Blue in color
Numbness
Cold
Misshapen
Cuts
Deformities
Those that suspect they have a broken foot shoot seek urgent medical attention where a medical professional could diagnose the severity.
Treatment for broken bones varies depending on the cause, severity and location. Some will require the use of splints, casts or crutches while others could even involve surgery to repair the broken bones. Personal care includes the use of ice and keeping the foot stabilized and elevated.
If you have any questions please feel free to contact our offices located in Valatie and Albany, NY . We offer the newest diagnostic and treatment technologies for all your foot and ankle needs.
Read more about Causes, Symptoms, and Treatment for a Broken Foot